The long and short about The Poly Gathering Part IV
Updated!
When old friends meet after not having met for a long while, the sort of questions they ask are more or less the same. How is your job, when are you getting married, how the hell did you get so fat and ugly. That sort of thing.
Not Ah Sai though. The first thing she said when we met at Orchard MRT was "You are Sibeh Sian right?!?!?!?"
I am sibeh sian indeed. Literally.
Anyway, to cut a long story short, Ah Sai
is
Adrenaline
. Which means I can't bitch about her openly anymore, not unless I want my deepest darkest secrets to spring forth from her blog. But then again, I don't have much to complain about Adrenaline because she is such an intelligent, generous, kind, beautiful and fantabulous sort of friend. Heh.
Or at least, that's what I wanted to do initially. People, I have a very important announcement to make here: Sibeh Sian is going to be a New Man, starting from this very instant, no more procrastination. I shall no longer be manipulated by evil superiors, scheming Sweet Young Things masquerading as 'Financial Advisers', or bloggers with bully-like tendencies who threatens you with what they know about you in Real Life. Yes, I am a Man reborn.
To prevent Adrenaline from spoiling my reputation by telling you all my deepest and darkest secrets, I shall take the initiative and counteract her Rumors of Mass Destruction with a pre-emptive strike: I will tell you people about my deepest and darkest secrets
before
she does.
Here it goes.
(The following section is not really for the under-aged. Proceed at your own discretion)
Question #01: What is your greatest sexual fantasy?
Women falling themselves over me while screaming "Impregnate me, oh
Monsieur
Sian! Impregnate me!" And I will brush them off with a very cool, "Not today darlings, I'm having my period."
Question #02: Who is your greatest sexual fantasy?
Rei Ayanami
Question #03: Which is the sexiest part of your body?
My bulging, hard, and perpetually glistering nostrils.
Question #04: How did it felt when you popped the cherry for the very first time?
I didn't quite like it. If you ask me, cherries taste a bit like almonds, but yuckier.
Question #05: Do you harbor any secret fantasies of your colleagues?
Yes, I do. I secretly fantasize about me suddenly becoming the boss and firing Ms Tan. And then rehiring her as the new cleaning auntie. Haha.
Question #06: Have you ever slept naked before?
Yes, I did. There was once when I fell asleep at the toilet bowl while shitting after a shower.
Question #07: What is the naughtiest thing you have ever said to anyone?
Teacher, I forgot to do my homework.
I hope your voyeuristic curiosity has been satisfied.
With Love,
Sibeh Sian
Update:
Ok, this update is in response to the queries about what we did that night. Frankly, the four of us (another two couldn't make it at the last minute) didn't do much except
eating
.
I have no idea why but my brilliant suggestion of dining at Burger King was shot down by Adrenaline. She must really hate me because she dissed my follow-up suggestion of KFC too. Then she rejected my final offer of Pizza Hut because she claims that she wants to remain slim for her coming
wedding
in December.
We finally ended up at this bistro near Borders, where she ordered two
ten-inch pizzas
. What the?!?!?!
After gossiping about who-and-who's and reminiscing about our glorious tradition of skipping lectures to play 大老二 during our poly days, we soon got hungry again. We made our way to Café Cartel where we ordered a big-ass platter of snacks, which was gone in fifteen minutes. This was followed up by this really huge 10-scoop-ice-cream-with-cookies-&-brownies-&-chocolate-fudge thingy: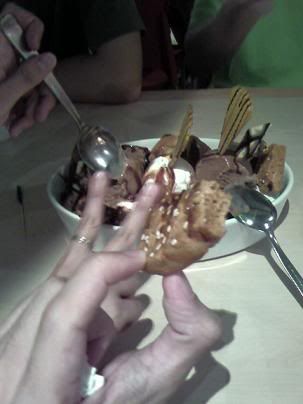 Very, very sinful thing
Which we also took just 15 minutes to finish: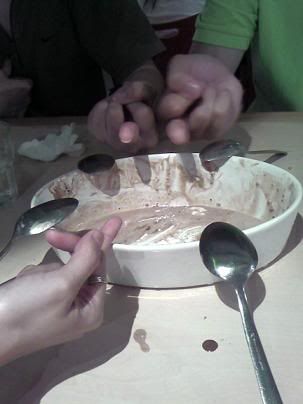 Apparently, my friends were not very happy with my repeated requests for photos
Adrenaline? Staying slim for her wedding?
Ha. Ha. Ha.