The long and short about How To Protect Yourself Against Lousy Boyfriends
I was watching 我猜,我猜, 我猜猜猜 the other night
because they feature a lot of Taiwanese babes who likes to act cute
because I enjoy learning about the Taiwanese culture.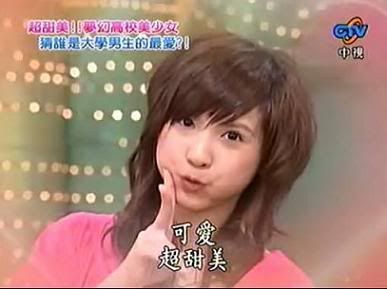 But I'm not going to talk about the girls today. Instead, I'm talking about their
ex
-boyfriends. It seems that the girls were cheated on by their exes, subjected to varying degrees of humiliation, and were even badly beaten up in a few cases.
I was very angry because seriously, that's no way to treat the object of your affection. It frustrates me even more that the girls chose to remain silent about their situation until the abuses became blatant. So for once, I am going to post something useful today: I'm going to tell you what you can do to protect yourself against those backside-holes.
Sibeh Sian's Guide on How You Can Protect Yourself Against Lousy Boyfriends

1) Get a nerd for a boyfriend.
What your mum has been saying is true! Instead of those yandao/bad boy/attitude type of guys, you can save yourself a lot of heartache by getting a
boring-as-hell
homely boy for a boyfriend. Not only will he not abuse you, he will treat you like a princess. The two of you will have so much fun shopping at Sim Lim Square and Funan Centre every weekend. Heh.
(Incidentally, I happen to be quite nerdy so if you need a boyfriend, heh heh heh)
2) Be in the know.
Ok, so let's say you want to try your luck and get a yandao/bad boy/attitude boyfriend. The first thing you can do to protect yourself is to
stalk
him. Start by sticking to him all the time. Make sure he reports to you where he is when you guys are not together, on a half-hourly basis. Check his SMSes. Steal his email/MSN passwords. Confiscate his passport. While all these may appear to be a bit extreme, they will act as very useful measures to alert you that your boyfriend is up to anything funny.
3) Make him spend a lot of money on you. A lot, a lot of money on you.
This tip is rather straight forward: make him spend a lot, a lot of money on you. The rationale for this is that he will think twice about ill-treating you since he has put in so much investment. So go ahead, get that fancy dress/ make-up/ $3,000 LV bag/ SLK, all on his account. If he has a credit card, make sure he gives a supplementary card to you. While you are at it, get his PIN too. Slap him if he whines about your spending, because you are really doing it for the sake of your relationship.
4) Chase away all his friends.
More often than not, your boyfriend will be more inclined to go sowing his seeds around in Geylang/ Zouk/ Changi Beach while partying with his useless friends. Either that or he waste his weekends by watching English soccer with his pals instead of shopping with you. He might even go gay with them. So be proactive: by driving away all of his friends, he has little choice but to stick to you all the time. Ways in which you can drive away his friends include telling your boyfriend his best buddy tried to make a pass at you. Heh.
5) Learn Kung-Fu.
Kung-fu is just an example. If you like Korean dramas, go learn Tae Kwon Do, or Karate if you are into J-Pop. The morale of the story is: learn how to defend yourself. The skills you learn will come in very useful against the lousy boyfriend or those sickos lurking in MRTs/SBSs/HDB lifts. For example, if your boyfriend tries to get 'funny' with you, you can be sure you can divert his attention with a swift kick to his nuts (ouch). Alternatively, you can also use your skills to force him into submission, if you are into SM. Heh.
You girls can thank me after your boyfriend gets domesticated :)
With Love,
Sibeh Sian