The long and short about The Phantom of The Opera
Hi all! I just got back from an ang mo ghost story, kindly sponsored by Office Bimbo: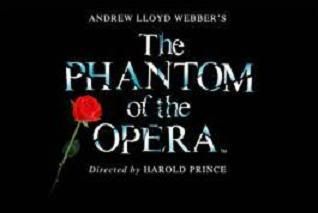 歌台之鬼
Not that this means anything, but Office Bimbo looked absolutely smashing with her hair nicely done-up and her
neh neh
assets displayed prominently in her figure-hugging gala dress. But I think she really regretted giving the ticket to me, because she was quite pissed when she saw me arriving in t-shirt and jeans. I felt really paiseh, but to my defence, I would have gone with my purple long-sleeve shirt with gold trimmings if I had known beforehand about the need to dress up.
But being a Man of Action, I had a nice little surprise for Office Bimbo. After we were comfortably seated, I told her to close her eyes because I got a gift for her. She was quite excited, but looked sibeh sian after she opened her eyes. I think she don't like KFC O.R. fillet burgers.
The show finally started after a while, and I was very impressed with the whole production. The stage transformed like magic after every act, and the cast were of course brilliant with their singing. But I was most impressed by the flying chandelier which came crashing after one scene. Since they have so many shows, they must have bought a lot of chandeliers, haha.
But throughout the show, I had this nagging suspicion that I've seen the Phantom some where before. Which was weird because I don't have any ang mo friends. But after racking my brains hard, I finally recalled where I saw him:
.
.
.
.
.
.
.
.
.
.
.
.
.
.
.
.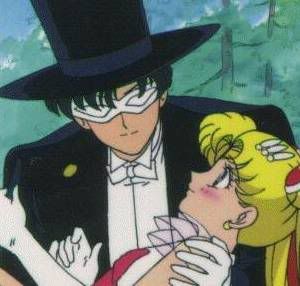 The Phantom of Sailor Moon
Ok, I have to go to bed now. Will tell you guys what happened
after
the show tomorrow. Heh.
With Love,
Sibeh Sian