The long and short about All Men Are Assholes
I was riveted to the TV last night while having my cold and forlorn dinner at home alone: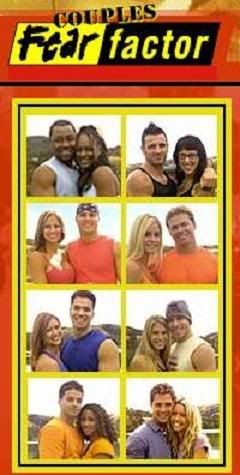 The most fearsome show on TV
One of the tasks involved getting your head into a box of snakes, before pushing yourself horizontally to a tool kit meters away to free yourself.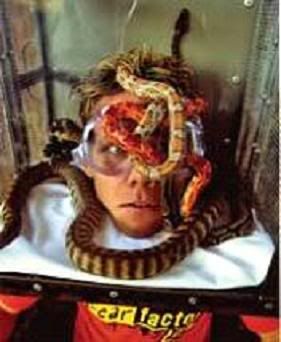 Honey, the spaghetti is alive!
If you think that is bad, it was a box of tarantulas for the girls.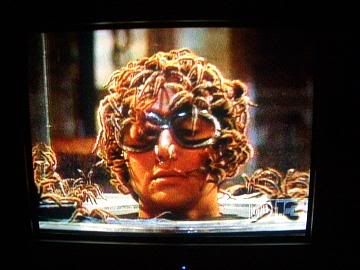 Funny, my head feels itchy all of a sudden
The gal from the first couple was obviously freaked, and I don't really blame her for thinking of chickening out because it was a non-elimination round. The guy however, was very pumped up, and made his girl recite "I am not a loser and I will complete this stunt" over and over again.
Just before they dump the tarantulas into her box though, she started freaking out big time and forfeited the stunt. The guy was pissed, and you know he went on to say something bad because the TV started *beeping*.
The last stunt of the night was much kinder in comparison: All the contestants had to do was to unlock two padlocks in the water and race to the finishing point. Very tame by Fear Factor standards, but still no easy task as they were competing for the best timing. The runner-ups lost by only a few seconds, and forfeited a $10,000 trip they won previously. The guy was obviously very, very pissed. You also know he went on to say
a lot
of bad things because my TV started *beeping* left, right and centre this time.
The sad part about this is that a large part of his *beeping* was directed at his girl, who ended up tearing while shivering from the cold. This is totally beyond me because I always thought you should treat your loved one as someone really, really precious. As least, if I ever find my very special someone, I'll do my best to make her feel really, really special. I think. Heh.
I received an angry SMS from Sushi Eating Friend after the show, which went "That guy is an asshole. All men are assholes. You will be an asshole too if you can't memorize the lyrics to Lin Jun Jie's songs by Saturday."
I am so dead.
With Love,
Sibeh Sian