The long and short about The Very, Very Accurate Personality Test
There are personality tests, and there are personality tests. So here's a very, very accurate personality test that I gave Nerd the other day:
Note: To ensure the accuracy of the test, it is important that you do not skip any of the 10 listed steps. You are also to complete the steps in sequence.
Instructions:
1) Take a piece of paper, and draw the following figure as depicted in
Figure 1a
. Keep the dimensions of the figure to approximately 8 by 10 centimeters.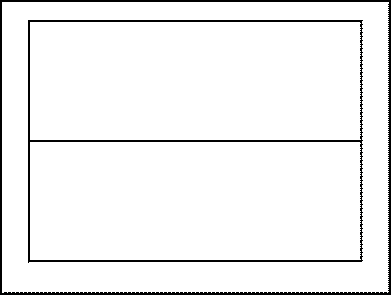 Figure 1a
2) Draw a circle within the figure. You are allowed to choose the position and the size of the circle.
3) Draw a stick man. Make sure your stick man does not intersect with the circle drawn in Step 2.
4) Draw an accessory for the stick figure. E.g. a flower, a hat.
5) Draw your favorite fruit at the top right corner of the figure.
6) Perform the following equation mentally, without resorting to a calculator, writing materials or any other aids:
1600 + 44 x 3
. Write your answer at the bottom left corner of the figure.
7) Write the first name that comes to your mind under your drawing of the stick man.
8) Choose among a) Sun; b) Moon; c) Star. Draw your chosen object in the figure, at any position you desire.
9) Draw another stick man in the figure. The second stick man can intersect with any of the objects already in your drawing.
10) Tear along the edges of your figure and place the final piece of work in front of you.
You have successfully completed the test. Scroll to the bottom of this entry for an analysis of your personality.
.
.
.
.
.
.
.
.
.
.
.
.
.
.
.
.
.
.
.
.
.
.
.
.
.
.
.
.
.
.
.
.
.
.
.
.
.
.
.
.
.
.
.
.
.
.
.
.
.
.
.
.
.
.
.
.
.
.
.
.
.
.
.
.
.
.
.
.
.
.
.
.
.
.
.
.
.
.
.
.
.
.
.
.
.
.
.
.
Analysis:
You are a socially inactive person who prefers spending weekends doing useless 'personality tests' on the internet instead of more meaningful activities, such as watching TV. If you did this test in the office, then you are an able person who is likely to have a good balance between work and play. Your boss may also be thinking of firing your sorry ass.
You are also a very obedient person who does all that is asked of you without any questions. It is thus highly likely that you are a Singaporean. On the other hand, if you are a smart ass who is reading this without having attempted the test at all, then I suggest you pay a visit to the doctor's soon because you are incapable of comprehending simple instructions.
Last but not least, you are a very, very bor liao person. But don't worry too much because the person who created this test is even more bor liao than you.
Thank you for completing this test. I hope you enjoyed it. Forward it to as many people you can think of, but probably not to your boss.
With Love,
Sibeh Sian