The long and short about The Lin Jun Jie Concert
Ladies and gentlemen, I am glad to report here that I've survived the Lin Jun Jie 2006 concert:
Argh! I got dust in my eyes!
Even before the concert started, I can tell that Sushi Eating Friend has absolutely no interest in me. And I say that with confidence. Midway through our bus ride to the stadium, she left me hanging in the middle of our conversation to ogle at Men In Uniform, who were rehearsing for the coming NDP. I decided to use that moment to sound her feelings (if any) for me.
Me:
Oei, do you think I will look good in a uniform?
Sushi Eating Friend:
Don't disturb me.
I rest my case.
We arrived soon after, and discovered that our seats weren't as good as we expected. While I indeed got front row seats, it was the front row of the non-premier section. Meaning we were at least 100m away from Mr Lin. I tried to appease Sushi Eating Friend by coming up with a funny poem about Lin Jun Jie, but she wasn't amused. Women can be so hard to please :(
After being coerced by the choreographer into learning some kindergarten dance moves which involves flapping your arms and shouting 'JJ GOH!" (I thought his surname is Lin?), the show finally started. I think everyone was very happy because every time Mr Lin appeared, the audience cheered. Every time he's done with a song, the audience cheered again. When he started showing his nipples, the audience cheered even louder. It was a very cheerful crowd indeed.
Unbeknownst to Sushi Eating Friend, I was actually more excited about the sweet looking guest star instead of Mr Lin: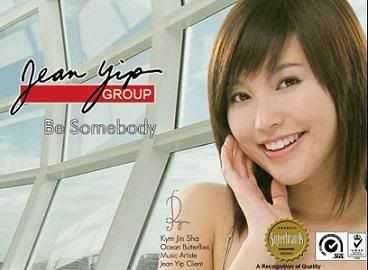 I am smiling despite my toothache
Local singer A-Do was the next guest star, and I guess Sushi Eating Friend don't like him very much because she went to the ladies. Heh.
Anyway, I've got to hand it off to Mr Lin because besides singing very difficult-to-sing songs, he had to dance around and do hand stands at the same time. When he was about to finish his encore items, groans can be heard collectively throughout the concert hall because the fans were very sad to see him leave. Or maybe it was also because their arms, like mine, were starting to ache after three off hours of light stick waving.
But I guess no one was sadder than Mr Lin, because he started
crying
after awhile. Which led to the heated argument between Sushi Eating Friend and me when we were on the cab for home.
Sushi Eating Friend:
I'm telling you for the last time, it was not sissy of JJ to cry ok? Men who dares to cry when the situation calls for it, are Real Men.
Me:
Yes, I agree that men shouldn't be afraid to cry when it's appropriate. But for goodness' sake, it was just a concert! And he was bending down and hugging his head and everything!
Sushi Eating Friend:
So when was the last time you cried?
Me:
. . . . When my mum lied that she threw my 27 year-old pillow out the window.
Sushi Eating Friend:
YOU SISSY!
Sushi Eating Friend is not a very fair person. Sigh.
With Love,
Sibeh Sian