The long and short about How I Got More Manly Over The Weekend
Maybe it's
my biological clock
ticking, but I've been bugging Sushi Eating Friend on how I can improve my chances with girls. I know she is not a very nice friend when she replied "You can start by stop bugging friends on how you can improve your chances with girls."
Wise-ass remarks aside, she did give a piece of advice that made a lot of sense: I should try to be more 'man'. So I spent the past week surfing on products that can make me more 'man'. It wasn't long before I got the following list:
Man, I'm born to perform!
Just in case you are
Adrenaline
perverted, the site has got nothing to do with sex. Rather, it's an online shop that sells body-building products such as body-building products. While this is definitely very manly, it also involves many painful trips to the gym and yucky protein drinks, so I'll give it a miss.
Then I found another manly product:
My name is Belle, but I'm masculine
The description from the website says it all:
A pleasant and beguiling scent for men, manly and delicious without being too perfumed. For the lumberjack man in all of us.
Sounds tempting, but I decided to give this a miss too because from what I heard, eating soap is bad for health, even if it is delicious.
I was about to give up hope until I found this: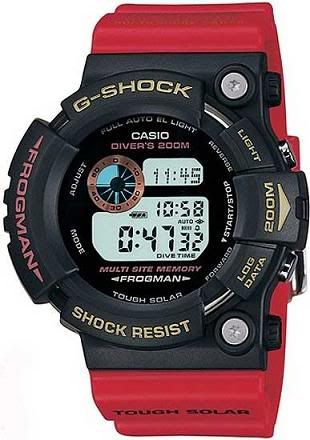 I am so full of attitude
The G-Shock Frogman is really, really cool. It runs on a Tough Solar cell which means I'll never have to change battery, has a power reserve that last up to two years on a full charge, and has the trademark G-Shock shock resistance. Despite the red straps, it looks damn manly as well.
I ended up blowing a major part of my Progree Package on it, and showed off to Sushi Eating Friend on Saturday. After explaining to her about the fanciful dive functions such as multi dive site data and 200m Diver's resistance, I know she is not a very nice friend when she replied "For goodness' sake, you can't even swim."
I have no idea why I'm still friends with Sushi Eating Friend.
With Love,
Sibeh Sian