The long and short about Bodily Hair
This entry is inspired by

Lambchop

. The poor thing, in addition to suffering from lupus, is now experiencing bodily hair growth in all the wrong places. Hey, that rhymed.
When I was in my teens, my sister loved to read those romance novels with very graphical, eh, graphics on the cover. Guiding purely from the glossy paperbacks, I was impressed upon two universal truths about romance novels: the char bors are always blossomy, while the hunks are always hairy.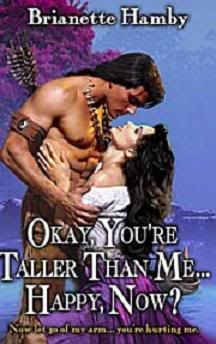 Not only do I have hairy arms, but I got bigger neh neh than you too
So I reckoned that if I were to get the babes, I must first be hairy. Which is a big problem for me because I'm about as hairy as a baby's ass. (Just in case you are wondering, I have a lot of hair on the top of my head. And it will stay that way. Ahem.)
"Your problem, very easy to solve!" so claimed an uncle of mine when I visited his place during CNY circa 1993. "All you need to do is just rub some alcohol on yourself, then can liao." He then proceeded to pass me a can of Tiger. I had to convince my mum that I was not going to turn into an alcoholic.
So that night, in the comfort of my bathroom, I rubbed the thing over my scrawny chest, my arms, and my sideburns. It felt tingling at first. Then it felt hot. Then it started to burn. I had to convince my mum that I was not wanking even though I went Ooh! Ahh! Ahh! the whole time.
I have absolutely no idea how I managed to repeat that ordeal for a week. I would have continued if not for the fact that I ran out of Tiger: I was that determined to get hairy. Unfortunately, there was no sign of any follicle development at all. I also rejected my uncle's kind counteroffer of XO.
Anyway, the saddest thing out of this episode is that I have very long hair
on my nipples
ever since. Very long. Around 5cm at least. I kid you not. I would have posted the pictures here, but I really do not want to spoil your appetite.
Maybe it's high time I start investing in an epilator. I wanted to borrow from Sushi Eating Friend, but she screeched 'NO WAY!'.
I wonder why :(
With Love,
Sibeh Sian