The long and short about The Big Walk
So after getting barely five odd hours' worth of sleep, I dragged myself out of bed to meet Sushi Eating Friend for the Big Walk this morning. She wanted to walk over to the stadium from Kallang MRT, but I convinced her to take the shuttle bus service at Dhoby Ghaut instead because it's, eh, free.
What I didn't know was a very, very long queue awaits us at the, eh, waiting point.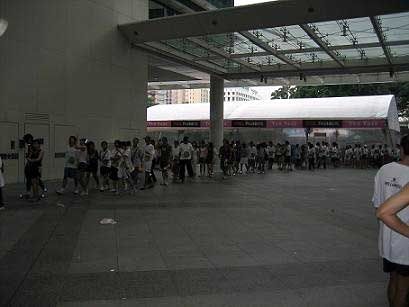 A very, very small portion of the very, very long queue
After waiting for like fourty odd minutes, we finally boarded the chartered bus, which eventually dropped us off somewhere very near Kallang MRT. We missed the flag-off, and Sushi Eating Friend was understandably
pissed
not very happy with me.
Anyway, we started our walk, and I slowly begin to realize that the Big Walk isn't just about walking for a lot for people:
For some, The Big Walk is about juggling:
If he miscue on his juggling, I would be in for a Big Pain
For others, it's about Dragon-dancing: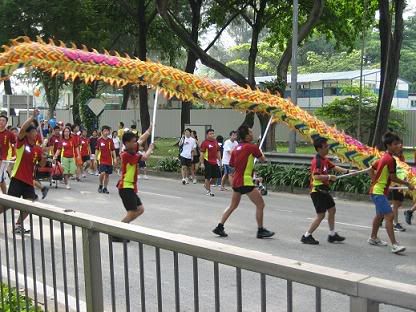 Lucky the Para Para Dancers never join in
For quite a few, it's about Kung Fu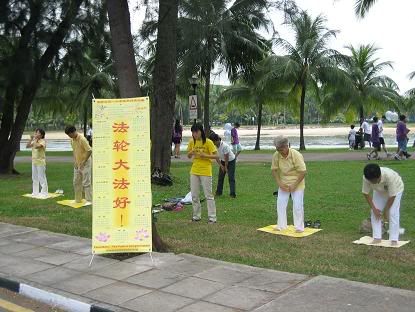 I am so gonna get banned in China for posting this pic
But for most of us Singaporeans, it's about wisely utilizing short-cuts when appropriate.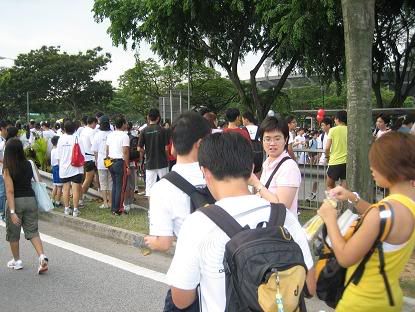 Organizers of the Big Walk were perplexed by the record number of people who broke the record walking time
To me, the highlight of the Big Walk was at the mid-point because
they were distributing free mineral water
the view near Fullerton was breathtaking. Some of my fellow walkers, deciding that the Big Walk was not challenging enough, tried to make the walk tougher by stuffing
a lot
of the free mineral water into their pockets, their pouches, their backpacks and their baby-strollers. I salute them all: the national policy of keeping fit is obviously working very well.
Alas, all fun things have to come to an end, and it wasn't long before we saw the end-point.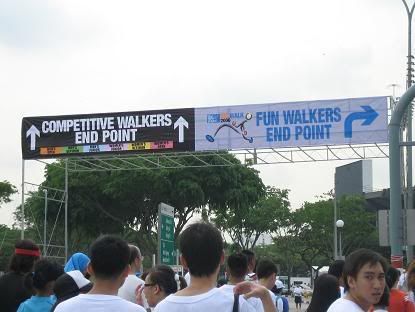 I am a Fun Walker
The first thing Sushi Eating Friend and I did upon completing our Walk was to rush over to queue for our goodie-bags. I was very happy because I got myself a free Sundae, face wash, towel, and eh, sunflower oil (what the?!?). My $4 registration fee has been justified. I also enjoyed the free samples Haagen Daaz was distributing, keke.
We then proceed to wait for the lucky draw results under the rapidly gloomy skies. After an hour plus, I realized that Fate wants my first lucky draw win not to be the Nissan Sylphy, but probably a Toto top prize in the not-so-distant future.
I also think Sushi Eating Friend looked very hot today in her pink hat, pink top and pink shorts. A pity she's not into men. She also managed to worm her way out of the Carl's Jr treat by claiming that I made her miss the flag-off.
Oh well.
With Love,
Sibeh Sian