The long and short about Sleepless In Toa Payoh
I've finally watched
Sleepless In Seattle
in its entirety over dinner yesterday.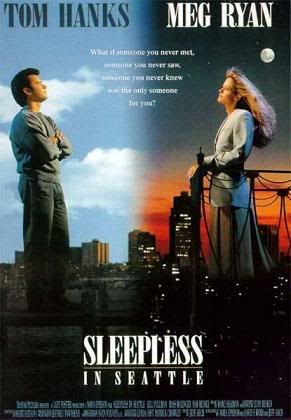 And when two lovers meet
Here's a brief synopsis if you've been living under a rock like what I've been doing all these years: Sleepless In Seattle is about this raving psycho who traveled half-way across the country to look for this guy she's infatuated with after hearing him whine about how much he misses his dearly-departed wife on the radio. But since the said stalker was played by the very lovely Meg Ryan, many mistook it for one of the loveliest romantic comedies of all time.
Besides the sinister undertones, the show talked a lot about destiny, about how that stranger across the street could be the love of your life, just that you don't know it yet. That got me feeling optimistic because, who knows, that lovely office lady who always takes the 7:30am train at Toa Payoh might just be The One for me. Heh.
Seriously though, some times I lay sleepless on my forlorn King-sized bed, and I wonder when I get to heaven as a virgin, will my maker say something like "Sorry, I forgot to plan a Significant Other for you." Now that may not be such a far-fletched scenario as it sounds because when I was in the army, my sergeant once told me, "Sorry, I forgot to plan lunch."
Now this is all very sad to me, because you get really hungry when you don't get lunch. And it's not that I've not been trying. In my bid to become more attractive, I tried to get a better chest by pulling this latex chest expander, which unfortunately snapped and hit me squarely across the face after just a month's worth of usage. I tried to improve my IQ by signing up for this Mega Memory package in my teens, but ended up nearly flunking my 'O' prelims. I've also once saved my canteen break money over months to treat a crush to Jack's Place on Christmas Eve, only to cry buckets after she cancelled the date at the very last minute. Oh well.
In my disillusionment, I resolved to stop my then daily diet of love songs by Michael Learns To Rock, and sappy love stories such as Sleepless In Seattle. But like every sucker who carries a hope that there really is someone who will one day say we are MFEO, it's hard to remain a cynic.
And it's a great feeling, really. It adds that little flush to your cheeks. It gives your step that extra spring. It gives you that little something to look forward to every time you open your eyes in the morning. And looking at Meg and Tom gazing lovingly at each other on top of the Empire State Building just now, I'm willing to bet every penny that it's a wonderful feeling to be in L o v e.
"Sleepless in Seattle?" quizzed Sushi Eating Friend over dinner just now, "I must have watched that like a dozen times. I still think When Harry Met Sally is the better show though."
"Hey, I've never asked you this, but have you ever considered giving that four-lettered word that begins with a capital L another chance?" Sushi Eating Friend suffered a crashing heartbreak back in our uni days, and hasn't dated since.
She smiled wistfully and looked pensively at nowhere in particular in the distance before slowly replying, "Maybe. Just maybe."
Sigh. Happy belated Valentine's, everyone.
With Love,
Sibeh Sian