The long and short about My National Day
As proof of how patriotic I am, I rushed home in a cab to catch the National Day Parade at home just now. I thought the cab uncle was a fellow patriot because he hung a mini flag by the side of his taxi, and was playing 'Stand Up For Singapore' on his stereo. On repeat. I thus wanted to try my luck and ask for a 41 cent discount, but thought the better of it when the uncle cast me a dirty look.
I am very happy because I was back in time to catch the show in its entirety. I think the organizers are sexist because while they made Vincent Ng appear on TV half-naked, they didn't do the same to any of the female performers. Sibeh sian. They also didn't fulfill my wish of making our lovely Miss Singapore Universe appear in our lovely national costume.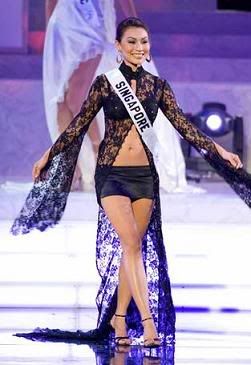 My mum told me our national costume didn't used to look like that in the past
Anyway, I really enjoyed the show because it brought back so many memories of the stuff I did when I was a young and innocent kid (just in case you are wondering, I am now a young and innocent man):
- When they play Mari Kita on the TV, I would stand in attention in front of the TV and start singing with gusto.
- Come to think of it, I would stand and sing along to all of the national songs they played. My personal favorite is We Are Singapore. Every time they reach the pledge portion, I feel a tear at the edge of my eyes sia.
- I really, really wanted to be part of the Men In Uniform after watching them march in smartly with their glittering badges and rifles. I was also very impressed by their marksmanship because no one ever gets shot despite so many shots being fired.
- I also wanted to be a pilot after watching the aerial display. That dream was cruelly dashed when the frumpy school nurse told me "Pilot your head lah pilot, you need to wear specs lah."
- Since I couldn't be a pilot, I thought being the President would be nice too because I will get chauffeured into the stadium with thunderous applause awaiting me. If fact, if I am President, I will lead the nation in a mass karaoke session of Count On Me, Singapore.
Oh well. The ambitions you have when you are a kid.
Happy Birthday, Singapore :)
With Love,
Sibeh Sian.