The long and short about What Fine Chubby Cheeks Look Like
When I posted about
fine chubby cheeks
last week, I got some very enthusiastic responses about how chubby they are.
Unfortunately, fine chubby cheeks is really a rarity. For example, although
Avalon
has
had a very nice ponytail, her cheeks are too slim to be called chubby.
For the benefit of everyone who is wondering what really constitutes fine chubby cheeks, I have kindly enclosed a picture in this entry: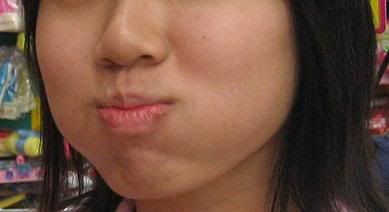 Notice the soft curves, the sweet little bumps, and that wonderful complexion that bore a tinge of pink beneath that healthy glow
I took the above shot of my crush in uni when she was having a sip of water. I have no idea why, but she wasn't too happy about it. Heh.
With Love,
Sibeh Sian