The long and short about The Great Pain
I have no idea how you guys spent your weekend, but I hope it was very different from the one I had because I was in
great pain
. I was in great pain because I was strapped in a cold reclining chair, with my eyes wide shut while my mouth got violated by the insertion of foreign objects that violently poked, probed, and grinded hard.
In other words, I went for a wisdom tooth extraction.
I don't know about you guys but I have a great fear of the dentist since childhood. But the weeks of insomnia and pounding headache finally did me in, and I know I will probably go nuts if I don't get that offending molar out of my head. So with a heavy heart, I called the company dentist after that all-nighter last Friday, and was lucky enough to get an appointment in the same afternoon.
I was very, very lucky indeed.
The dentist was a nice enough chap, and assured me that with the advances of modern dentistry, the operation will be done with swiftly and painlessly. I was also calmed by the presence of the very well-endowed dental assistant in a very, very short skirt.
. . . . gulp :)
After a brief examination of the tooth, the dentist asked if I wanted any anesthetic. It was a no-brainer for me because being the wimp I am, I have an incredibly low threshold for pain. That turned out to be a very bad mistake because after the administration, he looked very, very worried and asked if I am really not allergic to anesthetic. After looking into the mirror he offered me, I discovered the cause of his concern: my left cheek has swelled to gigantic proportions.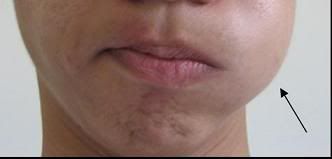 No photoshop required
The dentist then attempted to calm me down with a cheerful "I think I hit a nerve by accident, haha!" and proceeded to laugh nervously.
'Haha' my foot la haha.
After that not-so-little misadventure, he started on the extraction procedure. It was kind of funny in a way because even though he yanked and yanked and yanked, I felt no pain at all because of the anesthetic. In fact, the procedure was completed swiftly as promised, and I was generally ok even though I looked like I had a fishball stuck in my left cheek. I was even
stingy
strong enough to take the train for home instead of taking a cab.
The real pain came after I reached home. The effects of the anesthetic had more or less worn off by then, and it felt as if someone had used a sledgehammer on my mouth. I was in terrible pain, and was also feverish due to the loss of blood during the extraction. As if all that wasn't enough, I also had to live on porridge for the next three days and forgo my usual weekend treat at KFC.
If there ever is a vaccine for wisdom teeth, I swear I will be one of the first to endorse it.
By the way, the nurse-in-very-short-skirt was really close to me throughout the procedure, and even wiped the beads of sweat off my head while I was lying helpless and vulnerable in that dentist chair. Maybe I should start visiting the dentist on a regular basis :)
With Love,
Sibeh Sian
P.S. In other news, I would like to congratulate
Adrenaline
for being
a step closer to 30
. But no worries babe, don't need to worry about whether you will start looking like you are 30, because you've looked like that for a long time already :)